The new inMotion Extension for Adobe Creative Cloud helps creatives spend more time doing the work they love in their favorite Adobe apps.
In a recent blog post on the Adobe Blog, Minson Chen, Sr. Manager, Platform & Partner Marketing at Adobe, spoke with Alex Withers, CMO at inMotionNow about how extensions into key Adobe apps, like the inMotion Extension for Adobe Creative Cloud, can help creatives spend more time doing the work they love and less time chasing admin tasks.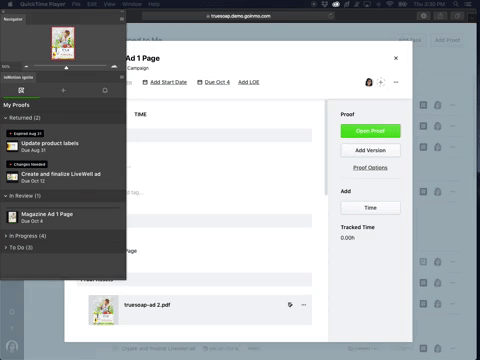 "inMotionNow recently launched ignite, their brand-new creative collaboration platform. Alex explained that they built the platform from the ground up to meet the needs of today's modern designer. inMotion ignite is a complete reimagining of creative workflow, built on the latest technology and rooted in the way today's creative teams get work done. The new application has fewer walls, more collaboration features, and smartly crafted integrations that connect it to the tools creative and marketing teams rely on in their daily work, such as Adobe Creative Cloud. At the Adobe MAX Creativity Conference this fall, inMotionNow announced integration with Adobe Creative Cloud to help creative teams streamline production and collaboration with stakeholders."
The article also included an interview with Zagg, a consumer electronics company that is best known for its line of protective coverings for electronics, and that is a customer of both inMotionNow and Adobe.
"inMotion ignite and Adobe Creative Cloud have made a really positive impact on our ability to collaborate across both functions and geographies," says Eric Fresh, a creative project manager at Zagg. "Ignite saves time for both our project managers and our creatives by putting everything in one place and streamlining our workflows."
Elise Hauser is a product and content marketer with a passion for telling brand stories. She has produced inMotionNow's annual In-House Creative Management Report for 3 years, webinars, content sessions for major industry events reaching audiences of 1,000+, and of course, countless blog posts. When Elise isn't writing about the marketing and creative industry at inMotionNow she is teaching economics and hanging out with her cat, Tucker, at her home in Raleigh, NC.